An archive of Futures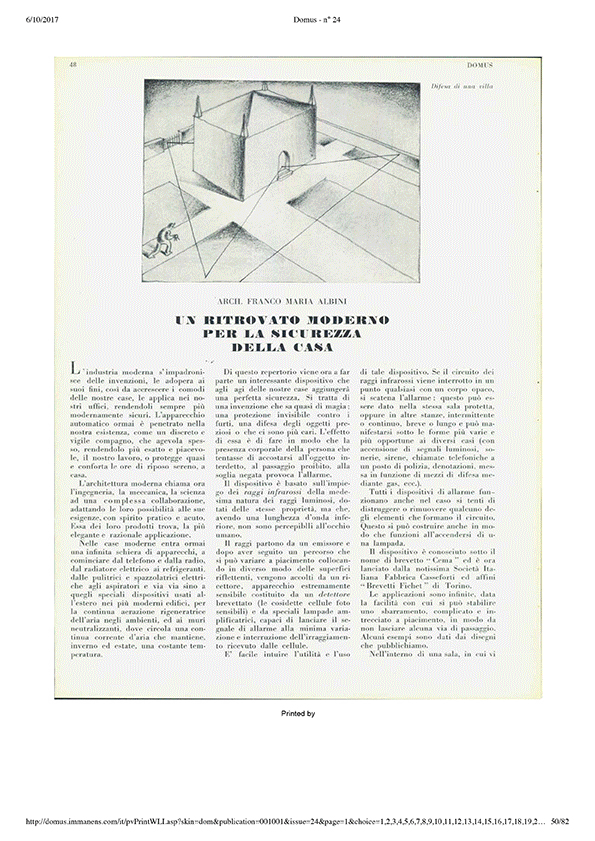 "9X9″ is the U67 selection for the workshop
"9X9" uses a systematic method: a survey in the Domus archive in the December numbers of the YYY9 years.
The end of the year of 9 end of decades: looking at the contemporary with a look on the future shows a point of the transversal situation in which the role of Domus as an Influencer is outlined in its evolution.
From technological innovation, seen as progress in the fascist Italy of the cult of national handcraft production, until falling in love with foreign models of furniture, technology and lifestyle, passing through the exaltation of industrial production and the research on the new domestic. Showing the contrast between the craftsman and digital model until an "autodafè" to capitalism lasted the space of an article.
All in 9 formats: paper, photo toolkit, exhibition review, furniture focus, case study on lifestyle, external contribution, photo essay and advertiser review.
List of selected articles:
1929 – n. 24 – p. 48 – A modern find for home security
1939 – n. 144 – p. 54-57 – The teachings of a House
1949 – n. 241 – p. 31-37 – An American exhibition
1959 – n. 361 – p. 107-108 – At the US exhibition in Moscow
1969 – n. 481 – p. 70-86 – Kitchens – against anorexia
1979 – n. 601 – p. 55-57 – US Drawing Architecture
1989 – n. 711 – p. 9 The form of work: twenty years of design for the office
1999 – n. 821 – p. 167-171 Computer and Creativity: a tribute
2009 – n. 931 – p. 28-35 Office and Contract do not exist / negotiations space
The 15th and the 16th June 2017 Office U67 has been involved in an archive exploration on the Domus Magazine for "An archive of futures", working with the digitalized archive of the Italian Magazine, starting from 1928.
"An archive of futures" is a project in occasion of the Milano Arch Week curated by Ira-C social with Giorgia Rocchi and promoted by NON Riservato, in collaboration with Domus.
It is an editorial workshop to read, discuss, edit and post-produce analogically a selection of articles made by:
Alessandro Benetti, Yulya Besplemennova, Burrasca, Fabio Cappello, Zoe De Luca, Forestieri Pace Pezzani, Fosbury Architecture, From Outer Space, Elena Malara, Marginal Studio, Martina Motta, Giulia Ricci, Qfwfq, small, U67.