OFFICE U67 ApS is the common ground of Fabio Gigone and Angela Gigliotti. Our practice works with a historical and theoretical trajectory to face and address the contemporary emerging challenges that interest architectural knowledge production. Although we often lean to philosophy and political theory, we always operate with the occupation and definition of space, challenging architectural research methods between art and architecture. Addressed research topics covered by our practice tackle: historiography, labour, class disparity, decolonizing architectural education, privacy and proximity, archeology, and anachronism.
♦
More about our modes of architectural production: 2020 Interview published in GRAM 02 | 2019 Interview by Elle Decor | 2017 Nomination within the Architecture Directory by Wallpaper* as "Hotly Tipped Talent and Promising Practice" for Denmark | 2017 Interview at the New Generations Festival
♦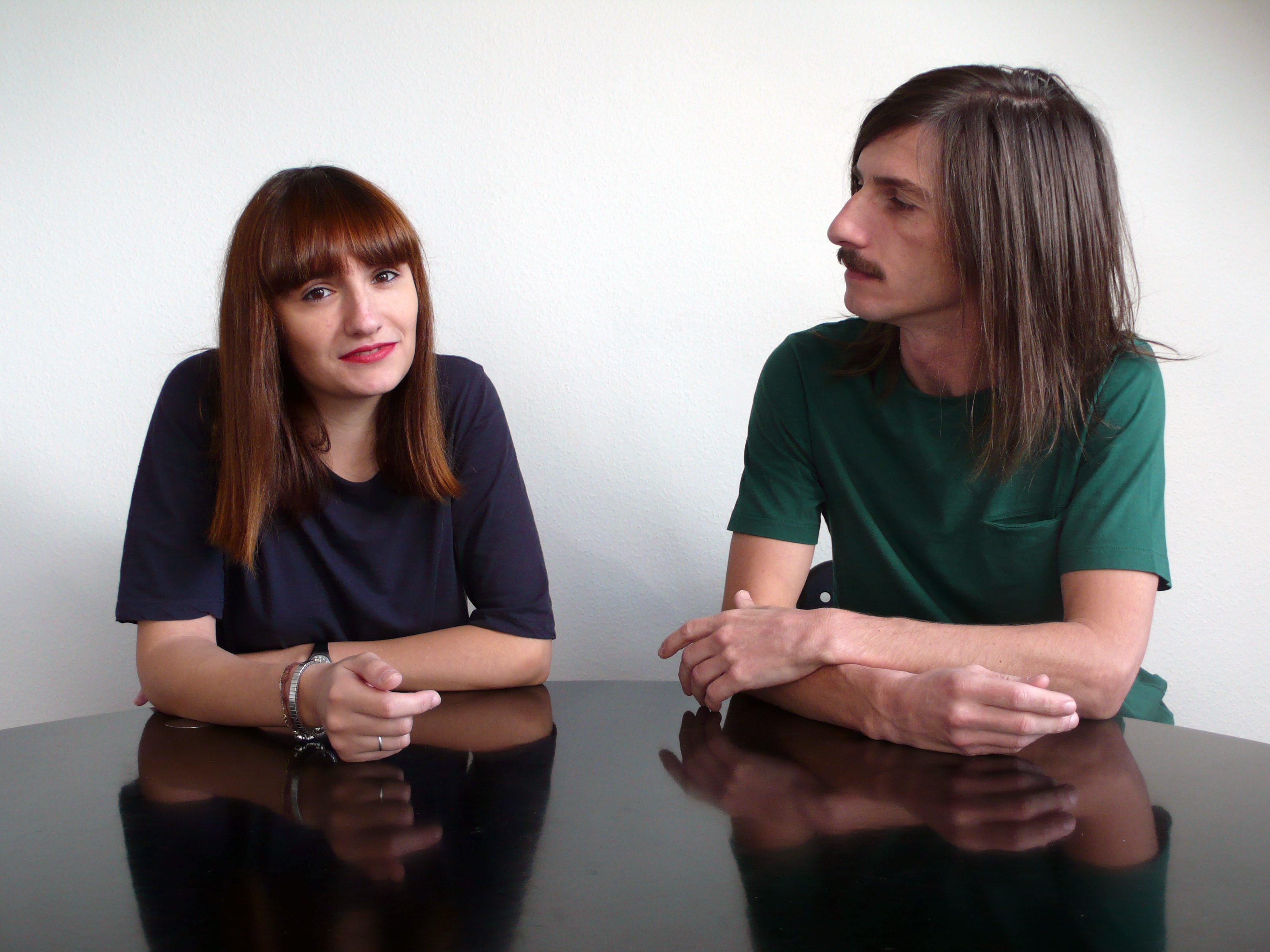 ♦
Fabio Gigone (1978) is an educator, architect and researcher. He graduated in Architecture at the IUAV in Venice and since 2007 he practised as Licensed Architect (Ordine Architetti Udine / RIBA Part 3 equivalent). He was a co-founder of Salottobuono till 2012 when the collaboration between its six co-founders ended. As a partner of this collector of research experiences and design production, he served as editor of the Instructions and Manuals section of Abitare magazine (2007-10) and as Creative Director of Domus magazine (2011-12). He co-authored the book "Manual of Decolonization" (Milano: A+Mbookstore Edizioni, 2010) and was a contributor at La Biennale di Venezia – Architettura and Arte (2008, 2011, 2012) while in 2010 he worked as Art Director and Designer of the Italian Pavilion at La Biennale di Venezia. Together with a multi-disciplinary team of architects and photographers he founded San Rocco Magazine in 2010.
Beyond the practice, he has actively been involved in academic activities: Adjunct Professor at IUAV in Venice within the Summer Workshops (2009, 2010); Adjunct Professor at ISIA in Urbino in the School of Graphic Design (2009-2012); Associate Professor at NMBU within the Landscape and Spatial Planning Department, Norway (2015-2018) and Research Assistant at Aarhus School of Architecture, Denmark (2015-2018). In 2018 he completed the Resources and Techniques for the Study of Renaissance and Early Modern Culture detailed study at the Warburg Institute, London, UK. He was granted a PhD fellowship at The Royal Danish Academy of Fine Arts Schools of Architecture, Design and Conservation (2018-2022) in Copenhagen, affiliated to the Excellence Centre for Privacy Studies at the University of Copenhagen, Denmark. His research project is titled "States of Proximity: Privacy under Louis XIV in Versailles, 1682-1715" supervised by Prof. Peter Thule Kristensen (KADK) and Prof. Maarten Delbeke (ETH Zürich). Along with that, in Fall 2019 he was a resident at the Accademia di Danimarca – Det Danske Institut i Rom while conducting some primary source investigation at the Archivio Apostolico Vaticano. Since Spring 2020, he is Academic Guest at Institut für Geschichte und Theorie der Architektur at ETH Zürich. His PhD dissertation is currently under assessment by Prof. Mari Hvattum (AHO Oslo), Prof. Maria Hansen Fabricius (University of Copenhagen) and Prof. Kirsten Marie Raahauge (KADK). He is currently Tenured External Lecturer and Research Faculty at DIS within the Architecture and Design Department in Copenhagen, Denmark (s. 2021) and Lecturer at the Royal Danish Academy (Fall 2022).
His research focuses is in Architectural History and Theory and it found convergence on the history of Early Modern Architecture in Northern Europe.
♦
Angela Gigliotti (1986) is an educator, architect and researcher. She graduated in Building Architecture both at the Politecnico di Milano and at the Politecnico di Torino (2011). She got a degree with honour at the ASP (Alta Scuola Politecnica), a double degree curriculum for young talents, where, consequently, she was appointed as Mentor (2015-2018). Since 2011 she practised as Licensed Architect (Ordine Architetti Milano / RIBA Part 3 equivalent) within several architectural practices in Italy, Belgium and Norway. She was part of the OAF Committee within the Norwegian Association of Architect; where she was granted "OAFs fellow for videreutdanning 2015-16″.
Beyond the practice, she has actively been involved in academic activities: Teaching Assistant at the Polytechnic University of Milan, Italy (2010-13); External Lecturer at NMBU University in Ås, Norway (Fall 2014; Fall 2015); Tenured External Lecturer and Research Faculty at DIS within the Architecture and Design Department in Copenhagen, Denmark (s. 2016); Lecturer at MIUR – Italian Ministry of Education (2020-2021). She conducted her PhD at the Aarhus School of Architecture (2016-2019) titled "The Labourification of Work: the contemporary modes of architectural production under the Danish Welfare State", positively assessed by Prof. Peggy Deamer (Yale School of Architecture), Prof. Helena Mattson (KTH Stockholm) and Prof. Thomas Bo Jensen (Aarhus School of Architecture). In Spring 2018, she was Visiting PhD Candidate at the Architectural Association – School of Architecture of London, UK, in the City/Architecture program under the tutelage of Pier Vittorio Aureli and Maria Shéhérazade Giudici. In 2020, she completed a post-graduate program dedicated to higher education tutors focused on Cultural Anthropology; Pedagogy of the educational communication; Psychology of the learning processes; Didactics and Media Education; Research and Evaluation at the Catholic University of the Sacred Heart, Milan, Italy.
Recently, she has been awarded by Carlsbergfondet as the HM Queen Margrethe II's Distinguished Postdoctoral Fellow at the Danish Academy in Rome, affiliated with the Arkitektskolen Aarhus and the ETH gta – Chair of the History and Theory of Urban Design Prof. Dr. Tom Avermaete with the research project "Unheard workers: behind a foreign diplomatic architecture of the 1960s in Rome" (2021-2023). Her research focus is on Architectural History and Theory and it found convergence on the History of Practices, Labour, and Welfare State. She co-edited the book "Utzonia: From/To Denmark with Love" (Trento: LIStLab Publisher 2020) and she authored chapters and articles published by Routledge, UK, 2021; AISU, IT, 2020; ArkDes, SE, 2020; AMPS, UK, 2020; ED Archinect, USA, 2019; CA2RE, DK, 2018; AAA, DK, 2018.
Full list of publication on Research Gate.
♦
P / P U B L I C A T I O N
T / T E A C H I N G
E / E X H I B I T I O N
♦
Team Members:
Fabio Gigone (partner)
Angela Gigliotti (partner)
Collaborators since 2013:
Shima Zibakalam | Aysegul Gungor | Luh Saraswati Pandyaningrum | Mohadeseh Banaeialishah | Dicle Varsak | Minghui Chen | Marcela Marques Costa | Huda Abdallah Mohammed Abdalgadir | Wenxuan Xu | Isadora Gomes Grosso | Dandan Lu | Melisa Elif Elme | Rania Abdelaziz Ahmed Omer | Gabriella Marie Scotto | Wanfei Shan | Flora Pregun | Martina Camesasca | Allegra Aprea | Rithvika Bhandary | Luca Lagorio | Benedetta Zambelli | Charles André | Clémence Goix | Alberto Piazzalunga | Nicholas Delle Donne | Matilde Del Pio | Ruichen Yu | Luo Yireng | Silvia Carrara | Mariachiara D'Onghia | Marco Felicioni | Giulia Sorrentino | Valentina Bagarotti | Luciana Faustini | Francesco Fusaro | Line Agger | Aleksandra Krutnik | Serena Bolzan | Lara Zentilomo | Giovanni Rossetti | Andrea Bonatti | Yi He | Matilde Parravicini | Arim Colombo | Francesco Degl'Innocenti | Marta Pezzoli | Enrica Vergnano | Martina Biava | Marta Barbieri | Francesco Rambelli | Allegra Fornaca | Francesca Piraino | Pierluigi Bardi | Agnieszka Nowacka | Luka Anic | Davide Masserini | Giampaolo Ferrara | Margherita Borroni | Marco Gambaré
♦
Current Available Positions:
Rolling Basis > Office U67 ApS is looking for outstanding student interns for research and architectural projects for a period of 2-6 months. During this period you will work on a variety of commissioned short-term projects, with special emphasis on the office's core research projects and exhibition design. For these projects, you will research different topics, handling big data sets in written and spatial form. In case you are interested please send an email to Mrs. Vicki Supert (collaboration @office-u67.net) with the object "Application Research Internship" together with your resume and portfolio (max 10MB).
// We are not planning office activities to run as normal: instead, remote working will be required until further notice. Mandatory internships in student curricula will be given priority. Please note that the internship has to be recognized and agreed upon by the home university prior to departure. English is a must, Danish/Italian is appreciated.
♦
OFFICE U67 ApS | CVR-nr 39302497