Helstøpt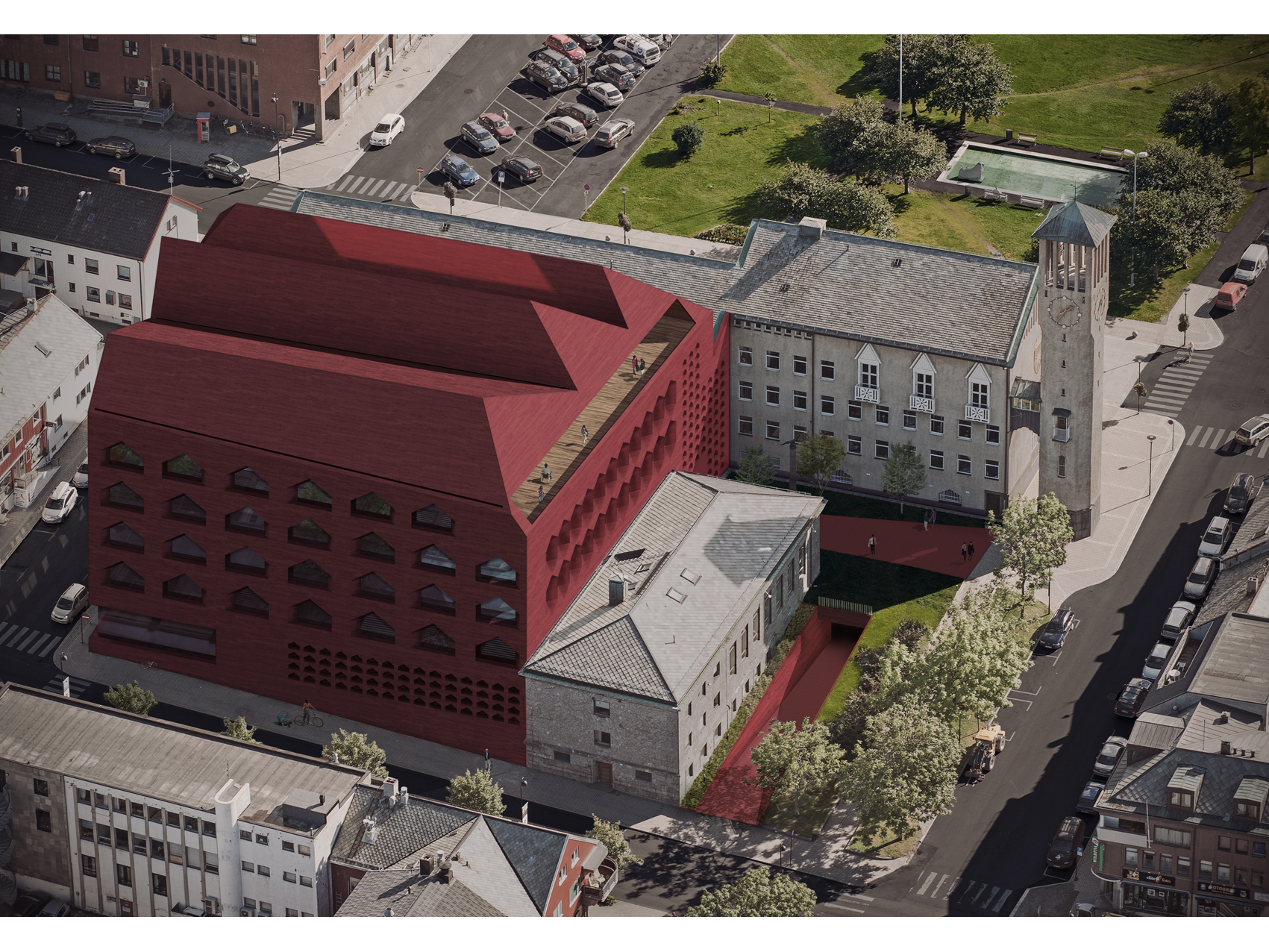 Our proposal for the Bodø Town Hall wants to strenght together the city and region, starting from the Bodø unique character in terms of nature, culture and history. The existing Town Hall is a place where past and present meet looking towards the future keeping the value of history as the main starting point.
Working with the existing buildings, the Town Hall and the former National Bank building, "Helstøpt " wants to create a coherent Hall adaptable to the urban context. The difference of levels between the different buildings are solved joining the storey with stepfree transitions so that the new Town Hall behave as an integrated building able to respond fluently to all the different flows of people and goods with no stops from the bottom to the top.
The vertical connections of the new Town Hall are built between and around two courtyards that connects visually and physically the whole building keeping the light directly to the ground floor. They connect the political space, the social space, showrooms and all the units in the municipal administration.
A big issue is even to work with a not homogeneous variety of materials and details to form instead an harmonic ensamble of volumes , materials and details. The existing Town Hall has a mural expressions with plaster facade, our proposal works with a cast in red concrete.
The iconic roof derives from the existing Town Hall gable roof adapting it to the new program, construction and context.
The new city hall defines a new city block opening itself to the main directions of the urban flows becoming a new lamp in the city. By "Helstøpt" the new City Hall becomes a solid, inviting , open and flexible house showing that Bodo looks toward the world and the future on the basis of a strong local common tradition and culture.
Project: Helstøpt – The extension of the Bodø Town Hall
Site: Bodø – Norway
Assignment: Open Competition – Honorable Mention
Client: Bodø Municipality
Provided Services: Design
Dimensions: 11 000 sqm
with LSA
Collaborators: Marco Gambaré and Margherita Borroni